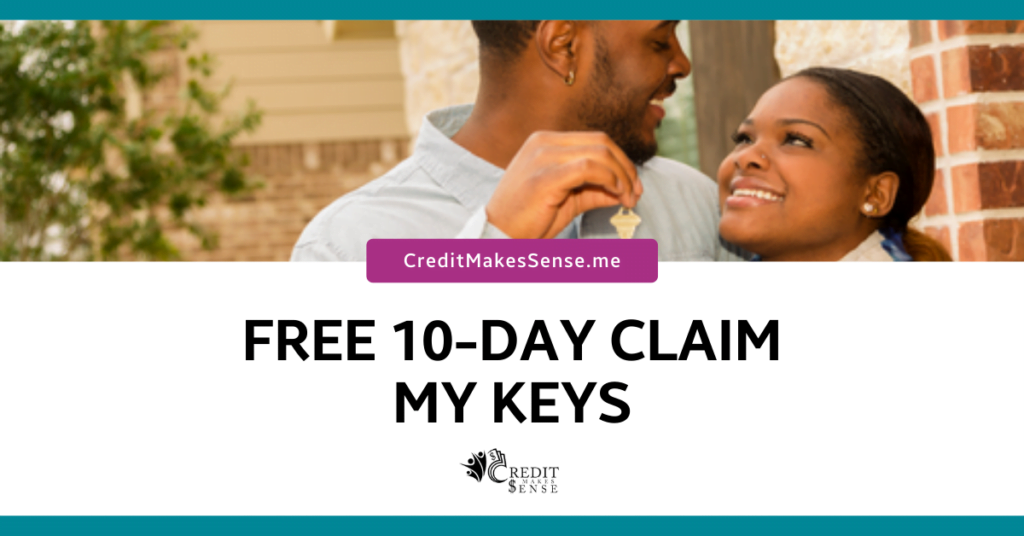 Welcome, Future Home Owner!!!
I am so excited about this Challenge, you have no idea 😊.
You see, helping people Claim the Keys to their New Home is my first passion, which actually led me to credit repair. There is no greater feeling than seeing the happiness and gratitude in a new home owner's eyes when the keys to their new home are handed over to them – it's truly the best feeling ever!
However, many never get to experience this exhilarating feeling because they fail to do one thing:
Prepare.
Preparation is the Key to Home Ownership.
Many are surprised when I say this because we often hear that credit, or stable employment, or a large down payment is the key to Claiming Your Keys. Although these are important, they aren't the primary steps to take when planning for homeownership.
Preparation is.
Why?
Because there are a lot of ups and downs in the home buying process, and if you are caught off guard by them, they can make the entire process super stressful. Who needs that?
Thus, you need to prepare. Plus, those who prepare end up spending less money on interest and other fees as well.
So, how do you prepare?
By educating yourself!
I can't stress enough how empowering education is, whether you're looking to Soar Your Credit Scores, invest, or – like today – Claim the Keys to your new home, it all starts with education.
I created this free Home Buying Challenge to do just that; educate you on how to strategically prepare to Claim the Keys to your new home. I'll teach you the steps that are integral to going from "I Want A Home!" to "I Got My Keys!" on the day of your closing.
Some of the Questions You'll Be Able to Answer After You've Completed the Challenge:
Do I understand my potential startup costs?
Do I understand the loan type that I have the highest chance of being approved for?
Do I understand the credit guidelines and know what I need to do to meet them?
Am I financially ready to purchase right now? If not, when?
Keep in mind that as we go through each day's lesson, you may find that you aren't as anxious to claim your keys as you thought you were; that's fine! Homeownership is not for everyone. It's best to learn this now than when you're in a new home absolutely miserable.
Some of you may find that you're not ready right now. That's okay too! Just because you aren't ready now, doesn't mean you should give up on your dream, it just means that you should work a little harder. And what worthwhile goal have you accomplished that didn't take some extra muscle to bring to fruition?
Ready to get started?
AWESOME!
Each day, for 10 days, we'll cover a specific topic in the home buying process. Some lessons will require you to complete specific tasks, and I encourage you to complete them in a timely fashion – no excuses. You want those Keys, right?
Some lessons will require you to post your answers in our online community, Credit Makes $ense, so that we can learn through Case Studies, Discussion, and Questions. PARTICIPATE!
My community has a fierce no-judgment zone policy, and if I can post openly about my bankruptcy, foreclosures (yes, plural), and purchasing a pair of $180 Aldo boots with my rent money in the past, then please believe you can post anything about your finances and not face ridicule. The embarrassment is in your head; not in our loving community. So, get out your head and participate! 😊
Your Pre-assignment – pull a copy of your credit report from one of the recommended sources: (not Credit Karma and not just your scores, your CREDIT REPORT).
It's no secret that our credit must be on point to purchase a home. Some of our assignments in the next couple of days will require you to reference the items on your report. Plus, you're in The Frugal CrediTnista's free challenge, of course, we're talking credit!!! LOL
Alright Future Homeowner, are you excited?  So am I!!!
Let's rock 🙂
Your Partner in Prosperity,                   
~ Netiva